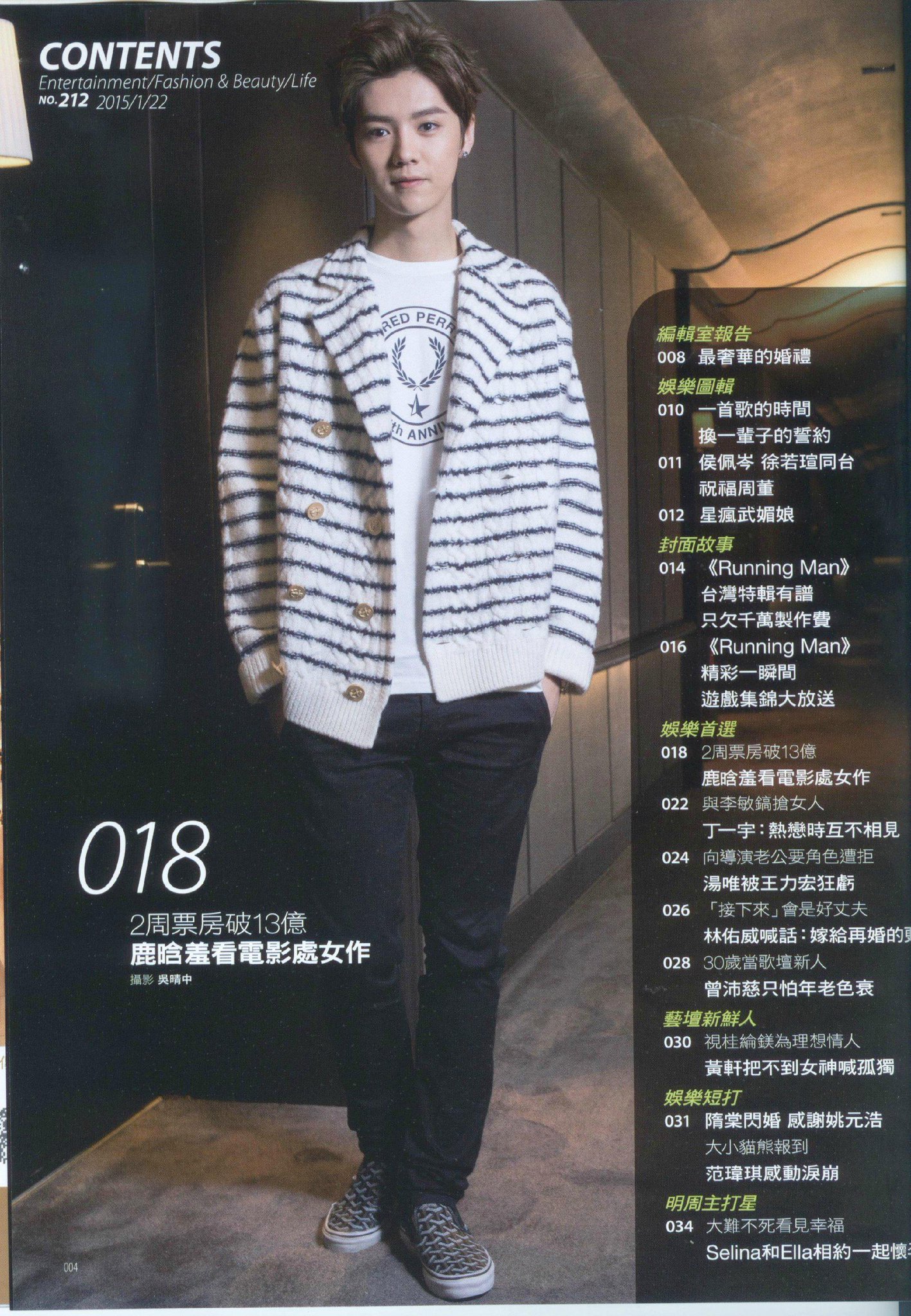 "20 Once Again" Hit 1.3 Billion at the Box Office in 2 Weeks, Lu Han was Embarrassed to Watch His First Movie.
Even after the dramatic scandal of filing a lawsuit against SM Entertainment and leaving the popular South Korean band EXO to become a solo artist, Chinese idol Lu Han did not lose his popularity. This, instead, led him to countless acting invitations by various companies. Within 4 days, his first movie "20 Once Again" hit RMB 100 million in China and the tickets to the Premiere in Taiwan were also sold out within seconds. With regards to his performance in his first movie, Lu Han gave himself 60 points while his co-actors Yang Zi Shan and Chen Bo Lin gave him full marks. No matter how much he scored, he would still be the adorable male god in his fans' hearts forever.
The 24-year-old Lu Han was scouted when he was in high school and went to South Korea for training before debuting as a member of the boy band EXO. Due to his harmless and adorable image, he became one of the most popular members in the group. Last October, he saw his health issues and his parents as the reasons to file a lawsuit against SM Entertainment, wanting to nullify his contract. Thus, causing uproar in the media industry and worried by many as they were afraid that his career might be affected. In the beginning of the year, he made his debut as a solo artist in the movie "20 Once Again". It was estimated that the movie would only be gaining profits if it sold more than RMB 120 million (about NTD 620 million). Unexpectedly, the movie managed to sell more than RMB 250 million (about NTD 1.3 billion) in just 2 weeks. This proved that Lu Han was capable as a singer as well as being an actor, as there were still about 30 to 40 films in queue waiting for his agreement to act in it.
Using His Gift to Memorize Guitar Tablature
It was Lu Han's first time in acting a movie and he confessed being very nervous that his body would turn cold and his palms would sweat. However, he would automatically shine when he stand in front of the camera. Chen Bo Lin praised him for performing well, "he (Lu Han) is better as compared to me when I acted for the first time. Perhaps, it got to be related to his previous performance experiences where he faced more people than us and he had professional training too. He is talented and earnest." Yang Zi Shan joked, "even I learned from him. He is very smart and able to remember a lot of things that the director has taught him. I should probably learn from him how to do aegyo." His seniors could not stop complimenting him, thus causing him to start blushing and asking for mercy to stop flattering him.
Lu Han was born to be an artist. In the movie, he acted as a passionate teenager who dreamed to be a rock star, which scenes of him playing guitar were needed. From not knowing how to play the instrument to learning a full song's guitar tablatures, it only took him 40 minutes to be able to play a full song once. He humbly said, "I attended one lesson when I was young, but my hand was in pain, so I gave up. I had to memorize the tablatures, since it was a need for the movie." Yang Zi Shan complimented, "he can really play the guitar, just like those sing while playing types."
After all, he debuted as a singer. Lu Han was often caught in a situation that he was too focused playing the guitar and forgot that he was supposed to act. When the director shouted, "action", he was seen to be too concentrated on playing the guitar with his head down. Chen Bo Lin also had to remind him that he needed to pay attention to where the camera is and showcase his charm at the right timing. If not, he would be too used to staring at camera while acting, as he would search for the camera while acting and NG. Lu Han laughed and said, "when a singer is filming a MV, one has to lip-sync and act cool at the same time. Sometimes, one must look at the camera and smile. Meanwhile, when one is acting, looking at the camera is not allowed sometimes, but I still have the habit to search for the camera, haha."
Wanting 90 points from Yang Zi Shan by Doing Aeygo
Lu Han could also not change his working habit. He still pays great attention on the importance of respecting his senior due to his long-term training in South Korea. There was a scene where he was drinking with Yang Zi Shan, and he did it the way he would if he were in South Korea. He would have to turn his head to the side and drink as a form respect to the senior. The scene was needed to reshoot and Yang Zi Shan comforted, "it is okay, you are in China now, turn your head back and drink, Grandma is here to protect you (she acted as Lu Han's grandma in the movie)!" The drinking scene at the BBQ restaurant required Lu Han to tease Yang Zi Shan. In the end, to make Lu Han relax, the director wanted him to really drink the alcohol as to boost his courage and make it easier for him to get adjust into the scene, "but I started to forget my lines as I drink, haha."
When chatting about acting experiences, Lu Han said that everything was fresh for him. It even took him quite a while to adjust and put in emotions when dubbing for the movie, "sometimes I could feel that my laughter is very fake (dry) when dubbing laughing voice." He revealed feeling really worried after watching himself on the screen, "when other actors came out, I felt comfortable watching them. However, when it was my turn, inside my heart started to freak out. I was being critical and feeling anxious that I just did not want to watch myself on the screen." His parents had yet watched his movie, "they are cool and want to wait for the official DVD version to be out so that they can watch at home as they do not want to reveal themselves to the public."
After the movie was released, the box office continued to be doing well and the movie critics gave Lu Han many positive comments saying that his acting was rather natural. When asking him to rate himself, he said 6 points. Yang Zi Shan and Chen Bo Lin were shocked and asked, "What are you considering as the full mark?" Lu Han then realized and said, "60 points, I thought the full marks was 10 points." The interesting part was when it was Yang Zi Shan's turn to rate him. He was so nervous and leaned close to her ear saying, "90 points, 90 points." Yang Zi Shan laughed and said, "The director gave him 100 points because it was not easy to have these kind of good results for a first-timer. I agree with the director, the 100 points is to encourage him in his acting career."
Refused to Lip-sync Even If Voice Cracked
Other than acting, Lu Han also sang the movie's theme song "Our Tomorrow". It was his first time to sing a whole song by himself as back in EXO days, the lines were distributed among themselves and one could only sing a few lines. He confessed, "I was feeling really excited when I recorded the complete song for the first time. It was because the amount of lines I was singing suddenly increased. Moreover, it used to be everyone singing after one another, so the emotions might not be able to match well. This time, I need to sing with feelings from the start to the end, it was quite challenging." Lu Han came to Tai Wan alone to promote the movie; the feeling was different as compared to coming here with EXO members for concert. When asked if he felt lonely, he paused for awhile and said that even though he has left South Korea, he still remember Korean, and occasionally he would watch Korean dramas, listen to Korean music, "the feelings will definitely be different, but how do I say it? Fans are still enthusiastic, so I feel more at ease."
When filming "20 Once Again", Lu Han has not appeal to nullify his contract with SM Entertainment. Now being independent, Yang Zi Shan watched him grew and sincerely said, "I had this motherly-love feeling for him since the beginning, and maybe it was because Xiao Lu acted as my grandson in the movie. Remember when we were still filming, people around him were all Koreans, and I thought that it was really pitiful and tough to be overseas alone. Looking at him coming back now, he became better and with him saying that he has gained weight from eating, I feel very happy." She said everyone praised Lu Han for being so adorable. However, after being close with him, she realized that he was actually strong-minded, had his own opinions and quite determine as well. "There were times when his throat was not feeling well, and we had to shoot the singing scene. I told him to lip-sync yet he rejected, saying that he must sing, even if his voice cracked, he was still determined to sing."
Rage About Fans Who Followed the Car Crazily
Lu Han did not really like always being said as adorable. He was actually very man and he loved to play soccer, watching anime and imitating online funny videos, "I am a manly man, but I am also humorous in private." His "man" was also shown in protecting his family. There were fans following him every day while filming. One day, a fan's car was following too near that it might cause danger. He could not help but got down the car and rebuked. "When my parents came over and we wanted to go and have a meal, I would tell the person 'you can stop following.' She would rebut saying, 'which pair of your eyes did you see me following you?' I said 'you should stop filming me.' She replied 'which pair of your eyes saw me filming you?' So I wanted to film her and she said 'you cannot take photos of me, I have my portrait rights.' Then, I chose to ignore her and walk off."
The fans would always be crazy without any limit whenever Lu Han was around. Whether it was at the hotel's lobby or the underground car park, there would always be fans waiting for him all day and night. When he had a press conference, fans were willing to pay RMB 20 thousand (about NTD 100 thousand) just to get the crew's pass. Some even went overboard and called his house, "my parents received phone calls occasionally and being asked 'is this Lu Han's parents?'" Lu Han felt sorry and helplessly said, "When I just debuted, I asked my parents 'do you want to come over and watch my debut showcase?' They only said 'it is okay, we can just look at the photos after that.' Also when I was almost debuting and I was really stressed, I called them to complain yet they only said 'who taught you to want to be a singer in the first place.'" Emphasizing on how his parents were low-profile people, he did not wish that their lives would be affected.
Lu Han said that his parents respect his decision as being an artist, and told him that once he made the decision, he should not regret. Therefore in 2013, the feeling of him receiving his first pay and giving them to his parents was indescribable. This coming Chinese New Year, he specially did not schedule any work. After going to South Korea to venture his career, it has been 6 and half years since he last spent the festive season at home. It was equivalent to staying outside since high school. It was a rare opportunity for him to be homed and of course, he would want to reunite with his family, giving red packets to the elders as a form of filial love. He understood better the importance of treasuring what he had, especially after filming "20 Once Again" which the grandma in the movie suddenly became young, and walked through her youth again. It was a film that highlighted and re-examined the importance of relationship with family. "I know that it is important to spend more time with my parents within this limited time that we have. These three words, 'I love you' might be embarrassed to say, but we do hug each other."
Translator:
Berniceluvszx at LuhanWorld
Source:
Ming Weekly Interview
Please take out with full credits.