We went to some cafe at Apgujeong because we wanted to eat and there were Yixing and Lu Han! And also Kris and M manager!
And then Chanyeol, Sehun and Jongin came and we like ate together and sat for 1 hour in the tiny space of that cafe!
I got to see the boys very close, because I behaved like I don't recognize them, but in the end I got Lu Han's signature and shook his hand!
Lu Han and Lay ordered 1 HUGE ice cream and ate it together, but then Sehun and Kai joined them. It was finished by 4 of them XDD
Lay fed Kai with ice cream the same way Lu Han fed Sehun!
Chanyeol took off Kai's cap and was ruffling his hair in a funny way. Also Chanyeol was using free PC in a cafe.
All of them were wearing casual clothes, M members were more stylish than K. K boys were all in black, with caps on and backpacks.
Sehun, Kai and Lu Han did some dance moves I've never seen before! It must be comeback song choreo!
Their tables: 1) Luhan and Lay 2) Kris & M manager 3) Chanyeol, Kai, Sehun. K trio changed their table 3 times XDDD
Lu Han's hand is so small! And his skin was really dry, poor baby ><
Guys, Kris didn't interact with other boys, he was sitting with M manager and discussing something all the time. He was really seroius.
Photo of Luhan's signature.
that girl is so lucky!!!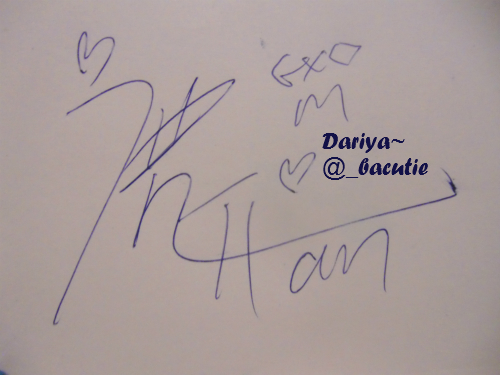 Credit:
_bacutie@twitter
Repost:
heehan3@luhanworld
DO NOT HOTLINK
TAKE OUT WITH FULL AND PROPER CREDIT